The Parade-Goer's 9-Point Guide to Understanding Political Propaganda
Dear Parade-Goer,
As I begin this week's missive, I have tears in my eyes.
Tears from a good laugh with my wife who just walked into the room while I was writing, headset on and the music blaring.
Apparently, the sound of my bare feet slapping on the slate floor, accompanied by my humming disjointedly along with the loud music she couldn't hear, reminded her of the sort of noises an inmate in a nuthouse might make.
Which I could be, given the madness in the world of late.
Reflecting on the human ape's propensity for violence and stupidity is a buzzkill, so I will not go there, but rather continue enjoying the afterglow of a belly laugh.
Besides, any time you want to wallow in all the sorrows of the world, all you need is to visit any news site. They specialize in such things.
***
By the time you read this, I'll have transported myself from our home in the Northeast US to Cafayate, Argentina, where I'll be slapping my feet on the wooden floors of our home there.
I'm here for two weeks to help put the finishing touches on the Bad Brothers Wine Experience, a wine tasting salon and restaurant in which I'm a partner.
Sheer folly if there ever was one.
I know that to be true because years ago I read Anthony Bourdain's entertaining book, Kitchen Confidential. I still remember looking up from the book and saying to my wife, "A person would have to be crazy to ever go into the bar and restaurant business."
But here I am.
No further comments necessary. Other than that the Grand Opening is October 15, and the first glass of wine is on the house for all dear readers.
A 9-Point Guide to Understanding Political Propaganda
Given we are eyeballs-deep in the US presidential election cycle, now seems a particularly appropriate time to share some observations on the topic of political propaganda.
As a naturally curious fellow, some years ago—during the Clinton vs. Bush Senior contest—I became interested in the language and techniques used in political campaigning. So much so that I dedicated my daily study period to the topic for the better part of a week.
Since it will be impossible to escape the rhetorical onslaught for the next few months, I thought I might be able to shed some light on what goes on in the battle for your subconscious.
As these insights come from the well-worn pages of playbooks of every politician around the world, I think they are pretty much timeless and cross all borders.
At the core of what I learned in my studies is that the stock and trade of the propagandist revolves around trying to simplify issues, no matter how complex, into easily understood concepts that tap into the existing attitudes and emotions of the target audience.
As an aside, since this topic touches on politics, I may inadvertently gore your ox. For the record, I view most politicians and political parties with disdain, though my disdain is particularly elevated for politicians espousing policies that interfere with my life, liberty, and pursuit of happiness.
With that brief introduction, here are just some of the techniques you can watch for as the election season gains steam.
1. Use stereotypes.
This technique has probably been in active use since humans lived in caves. Successfully drape the opponent in the cloak of a stereotype that triggers a negative image, and you've done a good day's work as a propagandist.
Depending on which side of the political spectrum you swing to, you might trot out old favorites such as "rich fat cat," or "friend of Wall Street," or "big-government socialist," or any one of many handy sterotypes. These stereotypes allow you to instantly tap into powerful underlying prejudices and emotions.
And, for the record, it is a well-documented fact that when we humans are emotionally worked up, we become much more suspectible to follow-on political messaging.
2. Name substitution.
The propagandist will try to label the opponent with an unflattering, and memorable, term. If that is successful, the label will involuntarily come to mind at the sight of the opponent. Donald Trump is the reigning champion of this technique, using name substitution like a two-by-four against his opponents.
Every time Elizabeth Warren's name comes up, my mind automatically substitutes her name with Pocahontas and I have to smile. On the other side of the contest, the Hillary camp has been trying to stick Trump with the "bully" label. I expect to see a lot more of that.
3. Selection.
Out of a mass of complex facts, the propagandist selects only those that are suitable for his or her purpose. You wouldn't expect Trump to mention his past bankruptcies, or Hillary her long list of crimes.
There is, actually, an instance where Trump might want to mention his bankruptcies. Folks in the influence business—including trial lawyers—use a technique called "inoculation" where, knowing your opponent is going to come after you on a point, you bring it up first and therefore diffuse it.
"My opponent, Crooked Hillary, is probably going to mention the fact that I have had some businesses go bankrupt many years ago. She's right.
"When you're involved in the rough and tumble world of business, sometimes things just aren't going to work out, and so you have to do what you have to do to protect your employees and buy some time to pay your debts.
But here's the important thing to remember. I've run businesses—big businesses—ever since I was 19 years old. And Crooked Hillary? She's a lawyer and never ran a single business. Not once. And that's the problem with American politics… too many lawyers and not enough business folks!"
4. Downright lying.
The "big lie" has always been an important part of propaganda.
Remember the woman who came forward to tell Congress about Iraqi soldiers raping and hacking their way through a maternity ward in Kuwait as part of the campaign to get the US to invade? The politicians got emotionally involved in the story and so, per my earlier comments, were made more susceptible to the idea of invading Iraq.
Turned out the woman was the daughter of a high-ranking Kuwaiti official who had been enlisted by a PR firm, and her story was completely fabricated.
Not so long ago, Bloomberg ginned up a story claiming Trump had invited thug and convicted rapist Mike Tyson to address the Republican convention.

Baseless nonsense dreamed up by soulless PR cretins, and nothing more.
5. Repetition.
If you repeat a statement often enough, it will become ingrained in the minds of your target audience.
For example, the myth propagated by the Democrats that the rich need to pay their "fair share" despite the fact that the top 10% of income earners pay 70% of all federal income taxes.
On the flip side, the Republications constantly repeat the mantra that Democrats are all in favor of "big government" despite the reality that the size of the government has continued to grow in size under Republican and Democrat administrations alike.
6. Assertion.
The clever propagandist rarely engages in a substantive debate over the issues, but instead favors bold assertions to support his thesis. This is logical because the essence of propaganda is to present only one side of the picture and deliberately obfuscate or bury facts to the contrary.
We are told Donald Trump is a bigot, but for the life of me, I can't find any examples. Unless you think his call for enforcing immigration laws bigoted.
We are told that police target black men for summary execution, a meme that has contributed mightily to the recent outbreak of violence against the police. In time, that will also result in the police keeping their hands in their pockets and avoiding neighborhoods where they aren't wanted. At which point the real mayhem will begin.
It doesn't matter that the assertion is not factually true, what does matter is that it fits the narrative that the majority of the white population, especially fat cats like Donald Trump, are racists.
As to the truth, here is a very worthwhile article that looks past the meme and to the statistical facts.
7. Identify an enemy that taps into deeply held prejudices.
It is particularly helpful to the politicians not to just be "for" something, but to be against some real or imagined enemy who is supposedly frustrating the will of his audience. This serves to deflect any opposing views while strengthening "in group" feelings. Some of the campaigners for Brexit used the influx of illegal immigrants very effectively in this regard. As has Donald Trump.
8. Appeal to authority.
The authority may be religious or some respected political figure. In the case of the Democrats, you'll increasingly see references to Bill Clinton, who is apparently remembered fondly by some. By trotting out Bill, Hillary hopes the voters will overlook her many faults.
Knowing this is coming, the Republicans have done a pretty spiffy job of tarnishing Bill Clinton's reputation—which wasn't real hard—with exposés on the Clinton Foundation and his proclivity for women other than his wife. (For the record, I almost made a snarky comment, but refrained.)
9. Peer pressure.
One of the most powerful influence techniques is summed up in the phrase, "Everyone else is doing it." Being a herd animal, it is very hard for us as individuals to go against the crowd. In the Brexit campaign, the media tried to paint the "Leave" folks as malcontents on the fringe.
In the US, to self-identify as a Trump supporter is—if you believe the Democrats and the media they control (which is, like, all the media)—you are some sort of gun-hoarding racist nutjob.
In what might be viewed as either good news or bad, the most fundamental limitation of propaganda is that almost everyone develops a more or less rigid set of beliefs and attitudes early in life and, except in trivial matters, clings to those beliefs.
Thus, the real task of the propagandist is to tap into those attitudes and attempt, often with deliberate lies, to demonstrate that the propaganda accurately reflects the established views of the audience.
Here is an example. On first hearing that Trump proposed to build a wall across the border with Mexico, my reaction was incredulous and very negative. What a dumbass idea.
However, when I heard Trump describe his wall, stressing that the wall would have a "big door, a very, very big door" for people that fulfilled the legal requirements for immigration to pass through, my opposition was muted.
I still don't think it's a practical idea, or even a good idea, but by his clever rhetoric—mentally painting the picture of a big door where people who followed the rules could enter—Trump was able to get me to view the idea of the wall in a different light. To wit, he's not anti-immigration. Just anti-illegal immigration.
Some Concluding Observations
I doubt Trump will win the election. Not only does he have the entire liberal establishment lined up against him, but the propagandists have had great success in turning the larger ethnic communities against him.
And in what may be a first, even the leadership of his own political party continues to go to great lengths to discredit him.
This is not to say that Hillary and the Democrats will be able to credibly marshall an effective propaganda attack on Trump that will sway his constituents.
For starters, that constituency views "Hillary" not just as a political opponent, but an icon for everything that is wrong with the political class. They are not budging even one iota come election day.
Which makes this a battle for the so-called independents. And that's where the propagandists will be aiming the big guns.
The Democrats tried to turn women against Trump by painting him as a misogynist. However, a master of the game, Trump countered by pushing forward the women the media had pointed to as "proof" of his misogyny who, in no uncertain terms, stated that the reporter had made up the whole story.
So, what scab can the propagandists (successfully) pick to ensure Trump doesn't attract the independents who are uneasy about the direction America has taken? Well, for sure, Hillary can't claim he's corrupt or a crook, you know, because of the whole rocks-and-glass-houses thing.
So, I expect she'll play the usual "fat cat" card and double down with the bully thing. That way when he berates her on the national stage, especially in the upcoming debates, she'll do the equivalent of an "I told you so! Look at how he treats poor me."
I think Trump is probably smart enough to figure all this out and be prepared.
Regardless, at the end of the day it's going to boil down to demographics. Who has the bulk of the voting public in their camp?
If Trump is on the right side of the demographics, the side that fondly remembers the idea of America and wants to preserve it, versus those who embrace the brave new world of political correctness, multiculturalism, and populist economics, he's got a chance.
If not, he will be toast and those of you who make America your home will have to accept that the country is going to continue slipping down the slippery slope. And not just under Madam President, but under whichever politically correct construct gets elected after her eight-year term ends.
Who knows, maybe by then the president will be introduced to audiences as "Ze President"?
So, any hints from the demographic data on who might win?
A useful gauge of what to expect from the 2016 race is to look back at the 2012 presidential election.
In 2012, Barack Obama defeated Mitt Romney by the comfortable margin of 332 to 206 electoral votes (to win the presidency, a candidate needs 270 electoral votes). In the popular vote, Obama beat Romney by a difference of about five million votes.
Historically, women make up 53% of presidential voters and men make up 47%. In the 2016 election, it is likely that the gender makeup will stay constant, which will favor Hillary Clinton. According to the Gallup Poll, 70% of women have an unfavorable opinion of Trump. That kind of gender gap could deliver the White House to Clinton.
On the other end of the scale, Donald Trump has the support of white men who distrust Clinton.
Trump may like to think he can up his chances in the presidential stakes by appealing to discontented white voters who will constitute an estimated 71% of the voting population in the 2016 elections. But the last presidential election results show otherwise. Even though the Republicans won white votes by huge margins in 2012, Mitt Romney still lost.
What carried Barack Obama into the White House were minority votes. He won 93% of African-American voters, 71% of Latino voters, and 73% of Asian voters.
The minority electorate carries even greater weight in 2016—with 38% of Americans constituting minorities, as opposed to 28% in 2012.
Furthermore, almost two million more Latino voters are expected to turn up for the 2016 elections than in 2012.
Therefore, Trump will need minority votes if he is to have a chance of winning the White House. An impossibility if one accepts the premise put forward by some political analysts that 84% of nonwhite voters won't vote for him.
Based on the demographics, I'm prepared to bet that it's unlikely that Donald Trump can win the popular vote for the United States presidency in 2016.
Then again, everyone thought Brexit would fail, so there's that.
I will close by saying that there are a couple of scenarios that could change the tide. One is that Trump absolutely dominates in the upcoming presidential debates.
The other is that Hillary gets indicted.
Regardless, I'll be watching the election results as they come in from a comfortable seat in the Bad Brothers Wine Experience. Which, given the prospects for a Clinton presidency, seems a fine place to be.
Here Come the Clowns
Candidate for the Nigerian Scam Letter of the Year
We have all received these letters. And I even know one otherwise intelligent individual who almost actually fell for one of them.
World Bank Assisted Program
Directorate Of International
Payment And Transfer.
Debt Reconciliation/Audit Unit
United Nations Headquarters,
New York, NY 10017, U.S.A.

Our Ref: WB/NF/UN/XX028 United Nations.

Dear Beneficiary,

We are authorize by United Nations Secretary General, and the Governing body of the United Nations Debt Reconciliation Unit, to investigate the unnecessary delay on your payment, recommended and approved in your favor. During the course of our investigation, we discovered with dismay that your Lottery Winning and Compensation payment has been unnecessarily delayed by corrupt officials of the Bank and Government regulatory organs in Nigeria, Asia, Australia, Europe, Africa, America, Canada, North America, and South America who are trying to divert your funds into their private accounts.

Be advice that we are mandated by the UNITED NATIONS and BANK OF AMERICA To pay 50 people from your country as a result of they Lottery Winning and Compensation as victim of Internet scam. The United Nations and HSBC has agreed to pay you Seventeen Million Five Hundred Thousand United State Dollars (US$17,500,000.00) each. You are listed and approved for this payment as one of the lucky person to be paid this amount, so get back to this office as soon as possible for the immediate payment process of your Seventeen Million Five Hundred Thousand United State Dollars (US$17,500,000.00) Lottery/Compensation funds.
… blah, blah. It continues, but then solidifies its chances at winning the Nigerian Scam Letter of the Year (NSLY) award with the following. You have to love his asking if the person was dead and, if so, had they assigned their rights in this matter to the other woman.
Also be inform that a woman with the name Elizabeth Williams of 5.9 inches tall, with Long hair and white in color from the United States of America have earlier today contacted this office claiming to be from you, stating that you are dead but before your abrupt death you made her your representative and authorized her as your legal beneficiary to claim your fund valued Seventeen Million Five Hundred Thousand United State Dollars (US$17,500,000.00) only from this reputable commission and and she also stated that she is a member of your family, so here comes the big question, are you dead? and did you sign any dead of assignment in favor of this woman? thereby making her the current beneficiary to your fund with her following contact details before you pass on, please get back to us if you are still alive and state to us if you authorize this woman to represent you for the claim of your fund or not, to enable us know the next line of action to follow for the transfer/release of your fund.

Contact information:

Mr. Daniel Smith
Chief Protocol Officer, Fund Release Department.


You'd have to be an actual moron to respond to one of these things.
Or to expect any change to result from the upcoming elections.
And with that, I will thank you for subscribing and bid you a fond farewell until next time.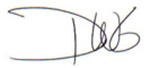 David Galland
Managing Editor, The Passing Parade
If you enjoyed this read, we'd love you to Share on: