The Last Parade
Dear Paraders,
It is with much regret that I must announce that the Parade is coming to an end. Or, more specifically, this weekly missive.
The simple reality is that the commercial side of this business, our premium research service Compelling Investment Quantified, failed to gain the traction necessary to justify the many resources and long hours required to continue.
Having launched a variety of businesses ever since my first attempt at commerce—which was selling dead baby hammerhead sharks off a roadside table outside of our house in Hawaii at eight years old (also a failed enterprise, as the increasingly smelly inventory chased off all potential buyers)—I am completely at peace with the idea that things sometimes just don't work out.
If you aren't willing to accept failure, your chances of being successful in business and in life are almost nonexistent. Fortune truly does favor the bold.
That said, I was surprised there wasn't a lot more interest in a research service that proved particularly adept at finding great companies with deeply undervalued stocks.
Maybe the workaday nature of the service, and our promotions, wasn't exciting enough. Nor was the fact that Warren Buffett—among many other serially successful investors—has used a very similar system to beat the markets through good times and bad.
But the market is what the market is… and in the case of CIQ, the market was indifferent.
What's Next?
My business partner Olivier Garret and I will continue focusing on our world-class sister company, Mauldin Economics, as well as our new RiskHedge.com initiative.
I will also be active in our wine businesses, Bad Brothers and Altos Terrunos. There's a growing appreciation for the high- and extreme-altitude wines we make, and we are very well positioned to take advantage of that sentiment.
Most of our wines are sourced from high- and even extreme-altitude grapes. In the case of the latter, these are some of the highest vineyards in the world. The result is a very robust, fruity, yet "clean" wine.
While one should never go into the wine business with the intention of making money, I am quite optimistic that my foray into the world of grapes will ultimately pay off. If not, I'll still have a wine room full of great wines.
Other than that, I plan on enjoying the simple, active life here in the Argentine outback. In a couple of weeks, I'll be embarking on a multi-day horseback ride with a group of amigos. Those trips always require considerable training and preparation; a great way of getting into shape.
And, of course, I'll be spending time navigating the shoals of today's "interesting" investment markets. By remaining focused on value, I am confident that come what may, in the end we'll do just fine.
That said, in the short run, the broader markets are very much at risk from a failed Trump agenda. If the considerable opposition on both sides of the aisle is successful at turning Trump's honeymoon period into a nightmare of failed attempts at reducing regulation and taxes, all bets are off.
Owning physical gold—15% of your portfolio seems about right—remains the single best protection at this junction. While I am biased, viewing the competitive offerings, I think you'll find the Hard Assets Alliance offers the best combination of price, convenience, and efficiency for buying, selling, and securely storing precious metals.
Stay in Touch
While The Passing Parade comes to an end with this edition, you will be able to read more of my observations and musings on our new RiskHedge website, the online home of quality risk-related analysis.
It's filled with informative and eye-opening articles by the RiskHedge staff and guest contributors like global-intelligence experts Ian Bremmer and George Friedman, and economic/financial rock stars like Mark Yusko, Steve Blumenthal, and Charles Gave.
We also recently started a podcast in which we interview some of these brilliant thinkers.
To make up for your loss of The Passing Parade, from next week on, we'll send you This Week in Risk, a quick-read summary of all our new RiskHedge content. You'll also be notified when a new podcast with one of our well-known guests has been posted.
I encourage you to give it a try—it'll be well worth your time. If you ever want to stop receiving This Week in Risk, you can easily do so by clicking the unsubscribe link at the bottom of each issue.
I have very much enjoyed being part of The Passing Parade team, and wish to thank everyone involved, including Jake Weber, Shannara Johnson, Stephen McBride, Samantha Dube, and, of course, my business partner of many years—and many years to come—Olivier Garret.
And, of course, a special thanks to you, dear readers.
If you're ever in Cafayate, Argentina, stop by our Bad Brothers Wine Experience, and the first glass is on the house.
Happy trails,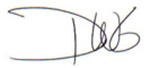 David Galland
Managing Editor, The Passing Parade
If you enjoyed this read, we'd love you to Share on: